Remembering the best from the good old days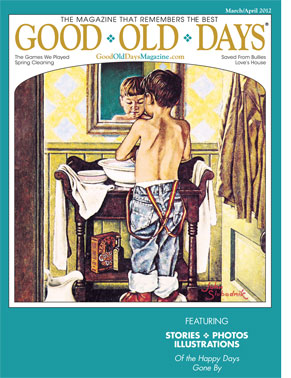 BERNE, Ind. -- DRG, a leader in the craft and nostalgia markets, has released the March issue of Good Old Days magazine, published under the company's House of White Birches brand.

The March issue includes stories of everyday life on the farm and memories of life in the city, with photos and illustrations that highlight the events and ways of life in America that, if not recorded, might soon be forgotten.

Reader-written stories include Opening Day at Wrigley, Baking from Scratch, Rosie the Riveter, My Brother's First Bike and The Games We Played.

Regular features include From the Mailbox -- letters from readers, Old-Time Music, Good Old Days in the Kitchen, Looking Hollywood Way and Good Old Days on Wheels.

For more than 45 years, Good Old Days has been produced as a full-size magazine that gives readers a place to read about -- and write about -- their memories from the past. The photos, illustrations, type-set, and even the newsprint appearance contribute to its appeal, making it a popular publication with a nostalgic look and feel.

House of White Birches was founded in the New England area in the 1940s. In 1985, it was purchased by the Muselman family and moved to the Midwest to become part of the DRG family of brands, along with Annie's Attic, Clotilde, American School of Needlework and Good Old Days.

Good Old Days magazine is available by subscription from the magazine website at GoodOldDaysMagazine.com.
---
About DRG: DRG (DRGnetwork.com) is part of the third-generation Muselman family business headquartered in Berne, Ind., near Fort Wayne. A leader in the craft and nostalgia markets, DRG is well known for its iconic brands, which include House of White Birches, Annie's Attic, Clotilde, American School of Needlework and Good Old Days. The company publishes magazines and books (print and digital), and also offers kits, supplies and Web-deliverable products in print catalogs and on its more than 40 websites. Magazines and products are also available on newsstands and in retail chains and independent stores nationwide. One of DRG's divisions, Strategic Fulfillment Group (SFG), provides state-of-the-art fulfillment and database marketing services out of a 140,000-square-foot facility nestled in the rolling wooded landscape of East Texas, centered between Shreveport and Dallas. The Muselman business began in 1925 with the founding of Economy Printing Concern in Berne. EP Graphics, as it is known today, is still owned by the Muselman family. It specializes in high-quality, four-color web printing for catalogs and magazines.