Nationally-known publisher releases new book of knitted jewelry designs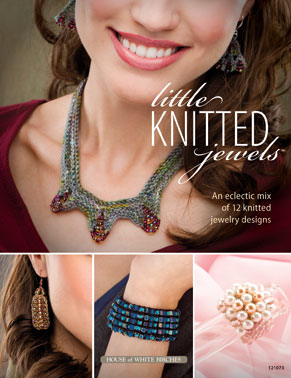 BERNE, Ind. -- House of White Birches, nationally-known publishing brand of DRG, has released a new knitting pattern book featuring 12 mixed-media knitted jewelry designs.

Little Knitted Jewels offers step-by-step instructions for knitting a variety of jewelry designs created by expert designers, with practical tips for each project from the designer who created it. The projects can be made with leftover supplies, using scrap yarn, fine-gauge wire, beads and embroidery floss.

The book opens with a "Before You Get Started" section that introduces knitters to the tools that are needed. It also includes an easy-to-follow knitting-with-beads tutorial and color photographs showing close-up shots of each technique.

Some of the special techniques that are highlighted include slipping beads, placing jump rings, backwards-loop cast-on, knitted cast-on, working from a chart, sewing a running stitch and knitting with wire.

Patterns are written in skill levels that range from easy through intermediate, with easy-to-follow instructions for creating a wide range of mix-and-match bracelets, rings, necklaces and earrings.

Little Knitted Jewels is scheduled for release in March, and will sell for $14.95 in select stores and online at the Annie's Attic website at AnniesAttic.com.

Kara Gott Warner is the book's editor. In 1997, she began designing knitted and crocheted garments and accessories, selling on the craft and artisan show circuit. She soon branched off to knitting patterns and kits, and in 2002, established igottknits, an independent knitting pattern collection sold through yarn shops and several online venues.

In 2008, Warner began working as a freelance knit editor for DRG, focusing on books. In 2010, she joined the company as the executive editor for all knitting publications, including Creative Knitting magazine.

House of White Birches has been part of the family of DRG publishing brands since 1985 and is a leading voice in the enthusiast categories of crochet, knitting, quilting, paper crafting, plastic canvas, nostalgia and beading. Other DRG brands include Annie's Attic, Clotilde, American School of Needlework and Good Old Days.

In addition to magazines and books, the company offers kits and supplies and Web-deliverable products in print catalogs and on more than 40 DRG websites, accessible from the company website at DRGnetwork.com.
---
About DRG: DRG (DRGnetwork.com) is part of the third-generation Muselman family business headquartered in Berne, Ind., near Fort Wayne. A leader in the craft and nostalgia markets, DRG is well known for its iconic brands, which include House of White Birches, Annie's Attic, Clotilde, American School of Needlework and Good Old Days. The company publishes magazines and books (print and digital), and also offers kits, supplies and Web-deliverable products in print catalogs and on its more than 40 websites. Magazines and products are also available on newsstands and in retail chains and independent stores nationwide. One of DRG's divisions, Strategic Fulfillment Group (SFG), provides state-of-the-art fulfillment and database marketing services out of a 140,000-square-foot facility nestled in the rolling wooded landscape of East Texas, centered between Shreveport and Dallas. The Muselman business began in 1925 with the founding of Economy Printing Concern in Berne. EP Graphics, as it is known today, is still owned by the Muselman family. It specializes in high-quality, four-color web printing for catalogs and magazines.