Creative Painter: One of the newest kit clubs from DRG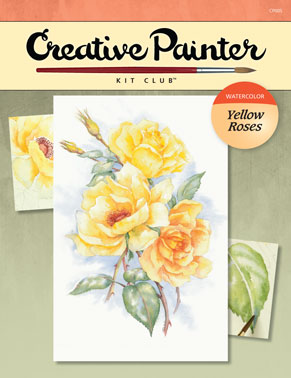 BERNE, Ind. -- Creative Painter Kit Club is one of the newest kit clubs created by DRG, a leader in craft and nostalgia markets.

As the company looks at ways to meet the needs of its crafting audience, kit clubs continue to be a popular approach because of their convenience and cost-effectiveness. Creative Painter Kit Club is one of nine kit clubs, providing an avenue for aspiring artists to pursue their interest in acrylic and water color painting through the convenience of an economical kit.

Creative Painter provides high-quality materials and instructions with each project, along with full-color, step-by-step instructions, paints and painting surfaces included in each kit.

Information is available online at CreativePainterKitClub.com. Kits arrive by mail.

DRG kits focus on the interest areas of knitting, crochet, paper crafting, beading, general crafting and painting, with kits called Creative Girls Club, Creative Woman Kit-of-the-Month, Young Woodworkers Kit Club, Simply Beads Kit-of-the-Month, Annie's Hook & Needle Kit Club, CardMaker Kit Club, Christmas Ornament Kit-of-the-Month, Creative Stamping Kit-of-the-Month and Creative Quilters Fabric Club.

Information about DRG's line of kit clubs is available from the company website at DRGnetwork.com.
---
About DRG: DRG (DRGnetwork.com) is part of the third-generation Muselman family business headquartered in Berne, Ind., near Fort Wayne. A leader in the craft and nostalgia markets, DRG is well known for its iconic brands, which include House of White Birches, Annie's Attic, Clotilde, American School of Needlework and Good Old Days. The company publishes magazines and books (print and digital), and also offers kits, supplies and Web-deliverable products in print catalogs and on its more than 40 websites. Magazines and products are also available on newsstands and in retail chains and independent stores nationwide. One of DRG's divisions, Strategic Fulfillment Group (SFG), provides state-of-the-art fulfillment and database marketing services out of a 140,000-square-foot facility nestled in the rolling wooded landscape of East Texas, centered between Shreveport and Dallas. The Muselman business began in 1925 with the founding of Economy Printing Concern in Berne. EP Graphics, as it is known today, is still owned by the Muselman family. It specializes in high-quality, four-color web printing for catalogs and magazines.