Creative Knitting May issue celebrates loom knitting and weaving with Martha Stewart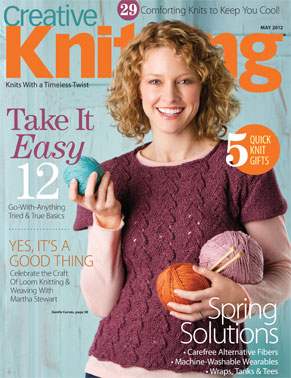 BERNE, Ind. -- The May 2012 issue of Creative Knitting magazine is available in select specialty stores and on newsstands nationwide.

Produced by DRG, a leader in the craft and nostalgia markets, the May issue features a new look, with more than 29 knitted projects designed for women, children and infants.

The magazine is written for knitters from every experience level. In addition to informative articles, it includes book reviews, how-to tips, and information on where to find products used in the magazine.

Creative Knitting Editor Kara Gott Warner said, "In our May home decor category, Martha Stewart has taken some time to chat about her new Knit & Weave Loom Kit, and also talks about her partnership with Lion Brand to produce her new yarn collection."

Gott Warner also announced a new feature -- a Knit-Along series. Knitters can visit Ravelry.com and join the Creative Knitting Fan Group at any time to get started in the series. The site will have someone available to answer questions and provide encouragement.

In 1997, Gott Warner began designing knitted and crocheted garments and accessories, selling on the craft and artisan show circuit. She soon branched off to knitting patterns and kits, and in 2002, established igottknits, an independent knitting pattern collection sold through yarn shops and several online venues.

In 2008, she began working as a freelance knit editor for DRG, focusing on books. In 2010, she joined the company as executive editor for all knitting publications.

Creative Knitting is one of five specialty crafting magazines created by DRG. The company also produces kits, supplies and Web-deliverable products in print catalogs and on its more than 40 websites.

The Creative Knitting Web address is CreativeKnittingMagazine.com.
---
About DRG: DRG (DRGnetwork.com) is part of the third-generation Muselman family business headquartered in Berne, Ind., near Fort Wayne. A leader in the craft and nostalgia markets, DRG is well known for its iconic brands, which include House of White Birches, Annie's Attic, Clotilde, American School of Needlework and Good Old Days. The company publishes magazines and books (print and digital), and also offers kits, supplies and Web-deliverable products in print catalogs and on its more than 40 websites. Magazines and products are also available on newsstands and in retail chains and independent stores nationwide. One of DRG's divisions, Strategic Fulfillment Group (SFG), provides state-of-the-art fulfillment and database marketing services out of a 140,000-square-foot facility nestled in the rolling wooded landscape of East Texas, centered between Shreveport and Dallas. The Muselman business began in 1925 with the founding of Economy Printing Concern in Berne. EP Graphics, as it is known today, is still owned by the Muselman family. It specializes in high-quality, four-color web printing for catalogs and magazines.