Second book of quotes for all occasions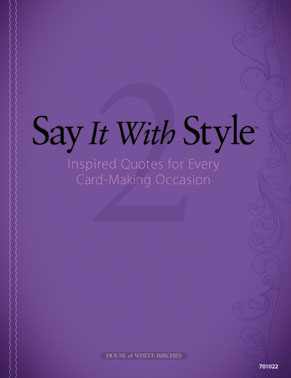 BERNE, Ind. -- DRG, a leader in the craft and nostalgia markets, has released a second book of quotable quotes for card making. Say It with Style 2 is a 144-page edition that complements the original Say It with Style book.

With more than 1,000 quotes, expressions and humorous quips, the book provides passages for every card-making project. The alphabetically-arranged chapters offer sentiments for birthdays, get-well wishes, holidays, expressions of sympathy, words of wisdom and a mix of other occasions.

Editor Tanya Fox said, "In this book, you'll find a wonderful collection of simple phrases, heartwarming sentiments and thought-provoking quotations. We've tried to include a broad variety of phrases to encompass as many life events and occasions as possible."

Historic writers such as William Shakespeare, Henry David Thoreau and Charles Dickens join contemporary names such as Rick Warren, Dr. Martin Luther King, Jr., John F. Kennedy and Art Linkletter, along with notables that include Helen Keller, Benjamin Franklin, Mark Twain and Walt Disney. There are also religious and inspirational Irish and Chinese proverbs and verses from the Bible.

Say it with Style 2 is available in a softcover edition from the Annie's Attic catalog, accessible on the Web at AnniesAttic.com.

DRG paper crafting books and products are accessible from the company website at DRGnetwork.com. Additional information and card-making ideas are available from DRG's CardMaker magazine at CardMakerMagazine.com.
---
About DRG: DRG (DRGnetwork.com) is part of the third-generation Muselman family business headquartered in Berne, Ind., near Fort Wayne. A leader in the craft and nostalgia markets, DRG is well known for its iconic brands, which include House of White Birches, Annie's Attic, Clotilde, American School of Needlework and Good Old Days. The company publishes magazines and books (print and digital), and also offers kits, supplies and Web-deliverable products in print catalogs and on its more than 40 websites. Magazines and products are also available on newsstands and in retail chains and independent stores nationwide. One of DRG's divisions, Strategic Fulfillment Group (SFG), provides state-of-the-art fulfillment and database marketing services out of a 140,000-square-foot facility nestled in the rolling wooded landscape of East Texas, centered between Shreveport and Dallas. The Muselman business began in 1925 with the founding of Economy Printing Concern in Berne. EP Graphics, as it is known today, is still owned by the Muselman family. It specializes in high-quality, four-color web printing for catalogs and magazines.