Creative Knitting magazine: New look -- new features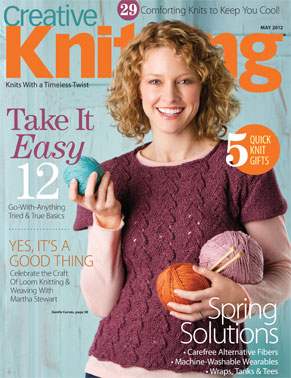 BERNE, Ind. -- Creative Knitting magazine, created by DRG, a leader in the craft and nostalgia markets, now includes two new features and a newly-designed cover -- all effective with the May 2012 issue.

Ask the Style Guide is an interactive question-and-answer column written by expert knitwear designer Jill Wolcott. In her column, she provides advice on fashion and fit when it comes to creating knitted garments. Topics include how to choose the right project, yarn substitutions, choosing yarns based on the season and knitting for plus sizes.

Wolcott has a background in fashion design, fit and garment construction. As an award-winning instructor, she teaches college-level product development and fashion design classes.

The second new feature, This Just In, highlights what is happening in the knitting world at large. It covers everything from books to yarn-bombed sunglasses, and with each issue will also include information on a featured knitting charity.

"Regarding our new cover, the look is fresh and dynamic -- colorful, inviting and up-to-date," said Creative Knitting Editor Gott Warner. "We've made the best use of typography and color to create more dimension and visual interest, with big graphic elements that clearly illustrate the kinds of projects that are included in a specific category."

In 2008, Gott Warner began working as a freelance knit editor for DRG, focusing on books. In 2010, she joined the company as executive editor for all knitting publications. She is also the designer of an independent knitting collection, igottknits, sold through yarn shops and online venues.

Creative Knitting is written for knitters from every experience level. In addition to its new features, every issue includes informative articles, book reviews, how-to tips, and information on where to find products used in the magazine.

Creative Knitting is one of five specialty crafting magazines created by DRG. The Creative Knitting Web address is CreativeKnittingMagazine.com.
---
About DRG: DRG (DRGnetwork.com) is part of the third-generation Muselman family business headquartered in Berne, Ind., near Fort Wayne. A leader in the craft and nostalgia markets, DRG is well known for its iconic brands, which include House of White Birches, Annie's Attic, Clotilde, American School of Needlework and Good Old Days. The company publishes magazines and books (print and digital), and also offers kits, supplies and Web-deliverable products in print catalogs and on its more than 40 websites. Magazines and products are also available on newsstands and in retail chains and independent stores nationwide. One of DRG's divisions, Strategic Fulfillment Group (SFG), provides state-of-the-art fulfillment and database marketing services out of a 140,000-square-foot facility nestled in the rolling wooded landscape of East Texas, centered between Shreveport and Dallas. The Muselman business began in 1925 with the founding of Economy Printing Concern in Berne. EP Graphics, as it is known today, is still owned by the Muselman family. It specializes in high-quality, four-color web printing for catalogs and magazines.