Live It Again 1957: Newest book in series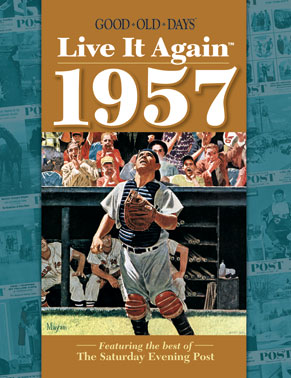 BERNE, Ind. -- DRG, creator of nationally-known nostalgia magazines Good Old Days and Looking Back, announces the release of the newest book in a nostalgia series that looks back at life in America during the 1950s.

Live It Again 1957 is part of a collection of nostalgia publications and is the sixth book featuring the events of the 1950s.

The book includes hundreds of authentic photos, illustrations and cartoons from 1957, with accompanying captions that contain interesting facts and trivia of the time. Television was a major media force, with an estimated 50 million sets in the United States alone. Gunsmoke was the No. 1 show, airing from 1955 to 1975.

Much of the material in Live It Again comes from issues of The Saturday Evening Post as published in 1957. Many of the images are being reprinted for the first time since they were originally published more than 50 years ago.

The imagery and information provide a historic look at the fashions and styles that defined the culture of the day, along with music, sports and movie stars. There are also familiar old advertisements, cartoons, images and bits of trivia that trigger memories from America's past.

Barb Sprunger is the book's editor. She joined the DRG editorial team in 1997, working closely with Editor Ken Tate on Good Old Days and Looking Back magazines and the entire nostalgia book series. She has been part of the Live It Again team since the beginning of the series, and in June 2010, became editor of the series. Each edition in the Live It Again series focuses on a different year as the publishers of Good Old Days recapture one of America's most significant decades -- the decade of the 1950s.

The series is available through the Live It Again website at LiveItAgain.com.
---
About DRG: DRG (DRGnetwork.com) is part of the third-generation Muselman family business headquartered in Berne, Ind., near Fort Wayne. A leader in the craft and nostalgia markets, DRG is well known for its iconic brands, which include House of White Birches, Annie's Attic, Clotilde, American School of Needlework and Good Old Days. The company publishes magazines and books (print and digital), and also offers kits, supplies and Web-deliverable products in print catalogs and on its more than 40 websites. Magazines and products are also available on newsstands and in retail chains and independent stores nationwide. One of DRG's divisions, Strategic Fulfillment Group (SFG), provides state-of-the-art fulfillment and database marketing services out of a 140,000-square-foot facility nestled in the rolling wooded landscape of East Texas, centered between Shreveport and Dallas. The Muselman business began in 1925 with the founding of Economy Printing Concern in Berne. EP Graphics, as it is known today, is still owned by the Muselman family. It specializes in high-quality, four-color web printing for catalogs and magazines.