Contemporary Monk's Cloth designs in full-color pattern book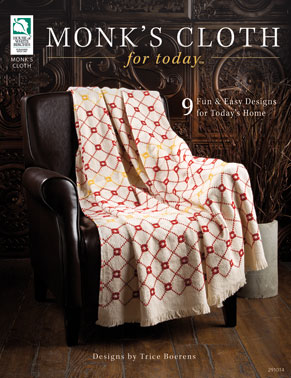 BERNE, Ind. -- DRG, a leader in the craft and nostalgia markets, has released a pattern book of Monk's Cloth designs published under the company's House of White Birches brand.

Monk's Cloth for Today™ calls for traditional stitching to create a variety of projects -- from table runners to baby blankets and throws. Large close-up photos, step-by-step instructions and graphs make the projects easy to complete. There are nine patterns and a two-page general instructions section.

Trice Boerens is the designer of the book's projects. She has worked several years in the quilting, needlework and paper industries. Along with designing projects for best-selling books and kits, she has also worked as a photo stylist, art director and creative editor.

The book is available in select stores and from the Annie's Attic catalog, accessible on the Web at AnniesAttic.com.

House of White Birches is one of a family of DRG publishing brands and is a leading voice in the enthusiast categories of crochet, knitting, quilting, paper crafting, plastic canvas, nostalgia and beading. Other DRG brands include Annie's Attic, Clotilde, American School of Needlework and Good Old Days.

DRG and is located in Berne, Ind., and a third-generation, privately owned family business with two major business divisions; one in magazine and book publishing and consumer catalogs, and the other in subscription and product fulfillment.

Information about DRG, its brands and its publications is available from the company website at DRGnetwork.com.
---
About DRG: DRG (DRGnetwork.com) is part of the third-generation Muselman family business headquartered in Berne, Ind., near Fort Wayne. A leader in the craft and nostalgia markets, DRG is well known for its iconic brands, which include House of White Birches, Annie's Attic, Clotilde, American School of Needlework and Good Old Days. The company publishes magazines and books (print and digital), and also offers kits, supplies and Web-deliverable products in print catalogs and on its more than 40 websites. Magazines and products are also available on newsstands and in retail chains and independent stores nationwide. One of DRG's divisions, Strategic Fulfillment Group (SFG), provides state-of-the-art fulfillment and database marketing services out of a 140,000-square-foot facility nestled in the rolling wooded landscape of East Texas, centered between Shreveport and Dallas. The Muselman business began in 1925 with the founding of Economy Printing Concern in Berne. EP Graphics, as it is known today, is still owned by the Muselman family. It specializes in high-quality, four-color web printing for catalogs and magazines.