Quick & Easy Quilts for Kids: Colorful quilts in sizes for kids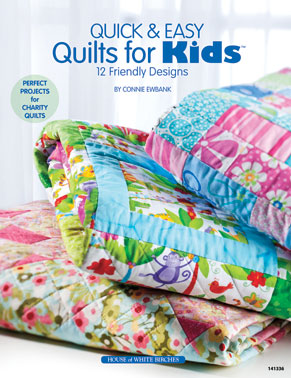 BERNE, Ind. -- DRG, a leader in the craft and nostalgia markets, has released a new quilting pattern book, written for beginner and experienced quilters.

Quick & Easy Quilts for Kids features 12 projects designed in sizes to fit cribs and children's beds using themed fabrics, such as animals, race cars, bugs and colorful shapes.

Each quilt is easy to create and can be completed in a day. Patterns include step-by-step instructions, color photos, and drawings to guide quilters through each technique, along with general finishing instructions.

The book is available in specialty stores and on the Web at Clotilde.com.

Connie Ewbank is the designer. For 12 years, she owned her own quilt shop and taught quilting classes. From there, she began publishing her own designs in pattern and book form. Today, she teaches quilting classes across the country and as far away as Monterrey, Mexico, as a circuit teacher for the Gulf States Quilting Association.

Carolyn Vagts is the editor of Quick & Easy Quilts for Kids. She has more than 10 years of quilting experience, and her resume includes freelance designer, quilt store owner, writer and quilt-pattern proofer. Her freelance designs have been included in a number of magazines.

In the spring of 2011, Vagts was named editor of DRG's Quilter's World magazine, at QuiltersWorld.com. Her personal patterns are available through her store, The Village Quilt Shoppe, located in Lake Orion, Mich., and through DRG's Clotilde catalog.

DRG publishes special-interest magazines, hardcover and softcover books, pattern booklets and related products sold direct to consumers through catalogs and the Internet and through wholesale and trade channels.

Quilters and needlecrafters can access additional DRG publications from the company website at DRGnetwork.com.
---
About DRG: DRG (DRGnetwork.com) is part of the third-generation Muselman family business headquartered in Berne, Ind., near Fort Wayne. A leader in the craft and nostalgia markets, DRG is well known for its iconic brands, which include House of White Birches, Annie's Attic, Clotilde, American School of Needlework and Good Old Days. The company publishes magazines and books (print and digital), and also offers kits, supplies and Web-deliverable products in print catalogs and on its more than 40 websites. Magazines and products are also available on newsstands and in retail chains and independent stores nationwide. One of DRG's divisions, Strategic Fulfillment Group (SFG), provides state-of-the-art fulfillment and database marketing services out of a 140,000-square-foot facility nestled in the rolling wooded landscape of East Texas, centered between Shreveport and Dallas. The Muselman business began in 1925 with the founding of Economy Printing Concern in Berne. EP Graphics, as it is known today, is still owned by the Muselman family. It specializes in high-quality, four-color web printing for catalogs and magazines.