Bavarian crochet featured in new Annie's Attic pattern book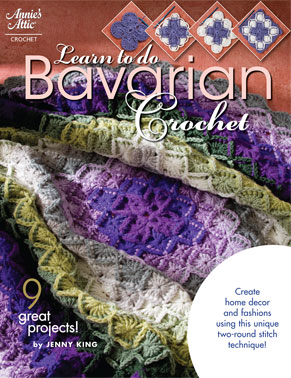 BERNE, Ind. -- Annie's Attic, well-known DRG publishing brand, has released a crochet pattern book featuring Bavarian crochet.

Learn to do Bavarian Crochet includes nine projects and a tutorial of special stitches for creating home ecor items and wearables in the two-round Bavarian stitch technique.

The book includes color photos of each project, with row-by-row instructions and a full listing of the needed materials.

Most of the products used in the book can be purchased from local craft, fabric and variety stores, or from the Annie's Attic catalog at AnniesAttic.com. They can also be found in yarn shops, department stores and mail-order sources.

Annie's Attic has been publishing classic crochet designs since 1975 and has been a DRG brand since 1996. DRG produces nationally-distributed crochet magazines known for their trendy and traditional crochet designs. The company publishes a wide range of products and publications in crochet and other needlecraft interest areas, all available from the company website at DRGnetwork.com.

Other leading DRG brands include House of White Birches, American School of Needlework, Clotilde and Good old Days. DRG products are sold direct to consumers through catalogs and the Internet and through wholesale and trade channels.

Learn to do Bavarian Crochet is available online from the Annie's Attic website.
---
About DRG: DRG (DRGnetwork.com) is part of the third-generation Muselman family business headquartered in Berne, Ind., near Fort Wayne. A leader in the craft and nostalgia markets, DRG is well known for its iconic brands, which include House of White Birches, Annie's Attic, Clotilde, American School of Needlework and Good Old Days. The company publishes magazines and books (print and digital), and also offers kits, supplies and Web-deliverable products in print catalogs and on its more than 40 websites. Magazines and products are also available on newsstands and in retail chains and independent stores nationwide. One of DRG's divisions, Strategic Fulfillment Group (SFG), provides state-of-the-art fulfillment and database marketing services out of a 140,000-square-foot facility nestled in the rolling wooded landscape of East Texas, centered between Shreveport and Dallas. The Muselman business began in 1925 with the founding of Economy Printing Concern in Berne. EP Graphics, as it is known today, is still owned by the Muselman family. It specializes in high-quality, four-color web printing for catalogs and magazines.