Annie's releases newest book in mystery series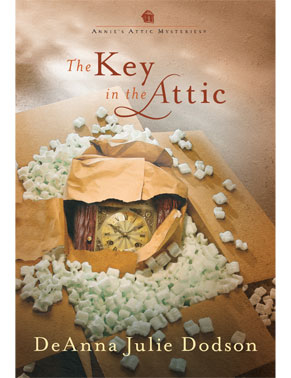 BERNE, Ind. -- DRG, a leader in the craft and nostalgia markets, announces the release of book 16 in a mystery series published under the company's nationally-known Annie's brand.

The Key in the Attic features lead character Annie Dawson, who, as the series opens, leaves her home in Brookfield, Texas, to travel to Stony Point, Maine, to settle her grandmother's estate. While she is there, she unlocks the door to a series of mysteries surrounding the items she finds in her grandmother's attic at Grey Gables.

Dawson and the members of the Hook and Needle Club of Stony Point engage in a chain of adventures as they track down mysteries connected to the contents found in the attic of her ancestral home.

In this edition, Dawson discovers a key in a broken vase in the attic of Grey Gables. The key is linked to an antique table and a beautiful mantel clock that date back to the Civil War. The key may hold the solution to the financial woes of Dawson's dear friend and local shop owner.

The Key in the Attic, along with previous books in the Annie's Attic Mysteries series, is available exclusively by membership. Books are shipped automatically to subscribers, with a new edition about every month. The series is available on the Web at AnniesMysteries.com.

Annie's is a nationally-known publisher of special-interest books and patterns in the needlecraft arts. The new mystery series combines a love of crafting with interesting characters and entertaining stories.

Each hardcover edition in the Annie's Attic Mysteries series is approximately 200 pages. Books sell for $19.95 each.
---
About DRG: DRG (DRGnetwork.com) is part of the third-generation Muselman family business headquartered in Berne, Ind., near Fort Wayne. A leader in the craft and nostalgia markets, DRG is well known for its iconic brands, which include House of White Birches, Annie's Attic, Clotilde, American School of Needlework and Good Old Days. The company publishes magazines and books (print and digital), and also offers kits, supplies and Web-deliverable products in print catalogs and on its more than 40 websites. Magazines and products are also available on newsstands and in retail chains and independent stores nationwide. One of DRG's divisions, Strategic Fulfillment Group (SFG), provides state-of-the-art fulfillment and database marketing services out of a 140,000-square-foot facility nestled in the rolling wooded landscape of East Texas, centered between Shreveport and Dallas. The Muselman business began in 1925 with the founding of Economy Printing Concern in Berne. EP Graphics, as it is known today, is still owned by the Muselman family. It specializes in high-quality, four-color web printing for catalogs and magazines.