Quilter's World: The magazine for today's quilter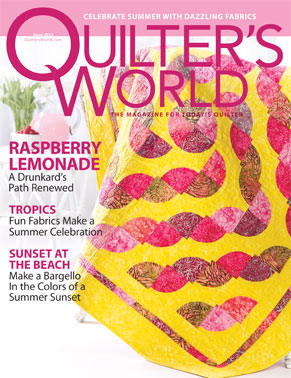 BERNE, Ind. -- The June 2012 issue of Quilter's World magazine, published by DRG, is now available on newsstands nationwide, featuring more than a dozen quilt designs.

Quilter's World includes quilting patterns and tips covering the latest trends and techniques from some of today's top quilting experts. It has projects written at every skill level -- from beginner through advanced -- with patterns for creating full-size quilts and smaller quilt projects.

The June issue focuses on quilting projects for spring and summer, with a variety of wall hangings, table runners and full-size quilts. There is also a feature article on fabric-dying basics and an advertising section highlighting what will be new in the quilting arena over the next few months.

Carolyn Vagts is the magazine's editor. She has more than 10 years of quilting experience, and her resume includes freelance designer, quilt store owner, writer and quilt-pattern proofer. Her freelance designs have been included in a number of magazines, including Quilter's World, McCall's Quilting and McCall's Quick Quilts, and her quilt projects have been published in 11 books.

Quilter's World is published six times each year and is available by subscription at the magazine website at QuiltersWorld.com. The online site includes information about upcoming quilting events and offers a free e-newsletter and access to an online subscription for the digitally formatted version of the magazine.

Additional quilting patterns and supplies are available from DRG's Clotilde catalog, accessible on the Web at Clotilde.com.

DRG is a leader in the craft and nostalgia markets and is headquartered in Berne, Ind. Information about other DRG products is available from the company website at DRGnetwork.com.
---
About DRG: DRG (DRGnetwork.com) is part of the third-generation Muselman family business headquartered in Berne, Ind., near Fort Wayne. A leader in the craft and nostalgia markets, DRG is well known for its iconic brands, which include House of White Birches, Annie's Attic, Clotilde, American School of Needlework and Good Old Days. The company publishes magazines and books (print and digital), and also offers kits, supplies and Web-deliverable products in print catalogs and on its more than 40 websites. Magazines and products are also available on newsstands and in retail chains and independent stores nationwide. One of DRG's divisions, Strategic Fulfillment Group (SFG), provides state-of-the-art fulfillment and database marketing services out of a 140,000-square-foot facility nestled in the rolling wooded landscape of East Texas, centered between Shreveport and Dallas. The Muselman business began in 1925 with the founding of Economy Printing Concern in Berne. EP Graphics, as it is known today, is still owned by the Muselman family. It specializes in high-quality, four-color web printing for catalogs and magazines.