Spring and summer crochet projects in June Crochet World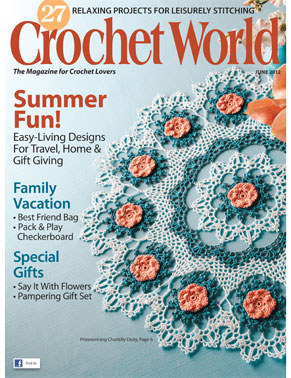 BERNE, Ind. -- The June 2012 issue of Crochet World magazine is now on sale. The magazine is produced by DRG, a leader in the craft and nostalgia markets.

Published as "The Magazine for Crochet Lovers," Crochet World launched in 1978 as one of the first magazines geared specifically toward crochet. It offers the latest in crochet designs, with full-color photos and step-by-step instructions for completing a range of projects.

The June issue focuses on things for spring and summer, with items for travel, home décor and gift giving, along with toy patterns and apparel for women and children. Pattern instructions are standardized throughout and are written in skill levels ranging from beginner through intermediate.

As an added bonus, subscribers to the print edition of the magazine also gain full access to the online version of the magazine, with two years of digital back issues at no extra cost.

Regular magazine features are designed to create a network for learning and sharing crochet information, with Crochet Connections, Winner's Circle and Just Threads. A buyer's guide includes contact information for some of the best-known retailers of yarn and needlecraft supplies.

Carol Alexander, the magazine's editor, joined DRG in 2002, and previous to that worked 15 years as a professional crochet designer. She is an active member of the Crochet Guild of America, where she has served on the board of directors for several years.

Crocheters can learn more about the magazine and about other crochet patterns and publications from the Crochet World website at Crochet-World.com.

Additional DRG books, magazines, kits and catalog items are available from the company website at DRGnetwork.com.
---
About DRG: DRG (DRGnetwork.com) is part of the third-generation Muselman family business headquartered in Berne, Ind., near Fort Wayne. A leader in the craft and nostalgia markets, DRG is well known for its iconic brands, which include House of White Birches, Annie's Attic, Clotilde, American School of Needlework and Good Old Days. The company publishes magazines and books (print and digital), and also offers kits, supplies and Web-deliverable products in print catalogs and on its more than 40 websites. Magazines and products are also available on newsstands and in retail chains and independent stores nationwide. One of DRG's divisions, Strategic Fulfillment Group (SFG), provides state-of-the-art fulfillment and database marketing services out of a 140,000-square-foot facility nestled in the rolling wooded landscape of East Texas, centered between Shreveport and Dallas. The Muselman business began in 1925 with the founding of Economy Printing Concern in Berne. EP Graphics, as it is known today, is still owned by the Muselman family. It specializes in high-quality, four-color web printing for catalogs and magazines.