Card-making tips and new card designs in July CardMaker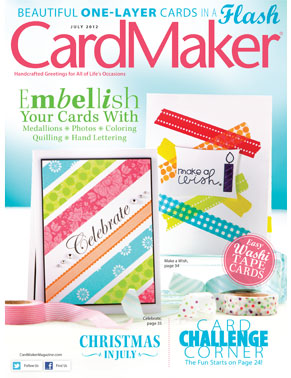 BERNE, Ind. -- The July 2012 issue of CardMaker magazine is now on sale in specialty stores and on newsstands nationwide.

The magazine features projects designed by leading card-making experts, with tips on quilling, hand lettering, coloring, stamping and embellishing, along with feature articles about the latest in card-making techniques. Also included in the July issue is a feature demonstrating a cutting-edge Copic® coloring technique.

Tanya Fox has been the editor of CardMaker since 2006. She is a strong promoter of the art of paper crafting and has coordinated joint publishing efforts with paper crafting companies such as Spellbinders, Provo Craft and Copic to produce a number of paper crafting pattern books.

"From combining stamping and quilling to learning beautiful coloring techniques, I'm sure crafters will find something in the July issue that inspires them and teaches them something new about the craft of card making," Fox said.

CardMaker is available by subscription from the magazine website at CardmakerMagazine.com.

DRG is a leading voice in the needlecraft, paper crafting and nostalgia industries, publishing special-interest consumer magazines, hardcover and softcover books and related products sold direct to consumers through catalogs and the Internet and through wholesale and trade channels.

Additional information about DRG and its brands and publications is available at the company website at DRGnetwork.com.
---
About DRG: DRG (DRGnetwork.com) is part of the third-generation Muselman family business headquartered in Berne, Ind., near Fort Wayne. A leader in the craft and nostalgia markets, DRG is well known for its iconic brands, which include House of White Birches, Annie's Attic, Clotilde, American School of Needlework and Good Old Days. The company publishes magazines and books (print and digital), and also offers kits, supplies and Web-deliverable products in print catalogs and on its more than 40 websites. Magazines and products are also available on newsstands and in retail chains and independent stores nationwide. One of DRG's divisions, Strategic Fulfillment Group (SFG), provides state-of-the-art fulfillment and database marketing services out of a 140,000-square-foot facility nestled in the rolling wooded landscape of East Texas, centered between Shreveport and Dallas. The Muselman business began in 1925 with the founding of Economy Printing Concern in Berne. EP Graphics, as it is known today, is still owned by the Muselman family. It specializes in high-quality, four-color web printing for catalogs and magazines.