Summer nostalgia in latest issue of Looking Back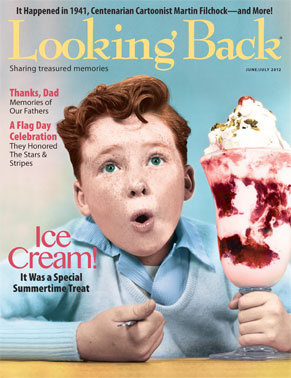 BERNE, Ind. -- The June issue of Looking Back magazine is now available, featuring reader-written accounts of some of the most memorable summer events from the past.

Printed in full color with 68 pages of first-hand accounts and authentic photographs, the magazine celebrates life in America during a time now called "the good old days."

Looking Back highlights stories from across the United States. It also features old-time advertisements, cartoons and pictures of memorable people, places and events. Additional sections feature home cooking recipes, nostalgia travel and old-fashioned home remedies.

The magazine launched as a complement to DRG's original nostalgia magazine, Good Old Days, and is published under the company's House of White Birches brand.

Mary Beth Weisenburger is the editor of Looking Back. Before joining the DRG publishing staff, she was editor and publisher of Happenings Magazine, a bimonthly women's lifestyle magazine.

Weisenburger is also a self-syndicated columnist, writing an award-winning monthly family humor column titled "In the Same Boat," which is carried in four publications and newspapers. She recently published a book of columns, In the Same Boat -- 55 Laugh Breaks for Frazzled Moms.

Readers can subscribe to Looking Back from the magazine website at LookingBackMagazine.com.
---
About DRG: DRG (DRGnetwork.com) is part of the third-generation Muselman family business headquartered in Berne, Ind., near Fort Wayne. A leader in the craft and nostalgia markets, DRG is well known for its iconic brands, which include House of White Birches, Annie's Attic, Clotilde, American School of Needlework and Good Old Days. The company publishes magazines and books (print and digital), and also offers kits, supplies and Web-deliverable products in print catalogs and on its more than 40 websites. Magazines and products are also available on newsstands and in retail chains and independent stores nationwide. One of DRG's divisions, Strategic Fulfillment Group (SFG), provides state-of-the-art fulfillment and database marketing services out of a 140,000-square-foot facility nestled in the rolling wooded landscape of East Texas, centered between Shreveport and Dallas. The Muselman business began in 1925 with the founding of Economy Printing Concern in Berne. EP Graphics, as it is known today, is still owned by the Muselman family. It specializes in high-quality, four-color web printing for catalogs and magazines.