Pytlak Serves as Panelist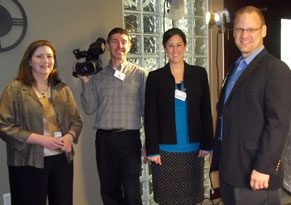 SFG President/COO Tony Pytlak (right) served as a client panelist at this year's Express Employment Professionals International Leadership Conference, held in San Antonio. At the conference, more than 1,500 Express franchisees and leadership teams came together from across the country to hear from top leadership speakers.

Pictured with Pytlak are Jennifer Kenley (left) from Express corporate offices, and Ralph Keune and Sharon Reus from Image Technologies Corporation. In 2011, SFG utilized more than 25,000 work hours from temporary employees supplied by Express.

SFG is the fulfillment division of DRG and is located in Big Sandy, Texas.



---
About About Strategic Fulfillment Group: Strategic Fulfillment Group (SFG) provides a full range of fulfillment and database marketing services out of facilities nestled in the rolling wooded landscape of East Texas, centered between Shreveport and Dallas. Its real-time relational database integrates operations across business models to provide a unified view of the customer and delivers unique solutions to its business-to-business and business-to-consumer partners. For more information, visit StrategicFulfillment.com. SFG is part of a family of companies--publishing, printing and fulfillment--now in its third generation of Muselman family ownership in Berne, Ind., near Fort Wayne. The Muselman family business began in 1925 with the founding of Economy Printing Concern in Berne. EP Graphics, as it is known today, is still owned by the family. It specializes in high-quality, four-color Web printing for catalogs and magazines.