Pillow patterns in new quilting pattern book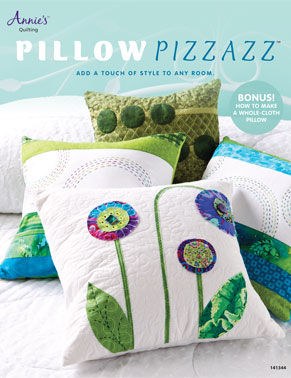 BERNE, Ind. -- Annie's, well-known publisher of craft and nostalgia magazines, pattern books and related products, has released a new quilting pattern book, Pillow Pizzazz™.

The book is comprised of a collection of 12 pillow patterns offered in a variety of styles, shapes and sizes. There are traditional pieces and modern designs made from scraps. There is also a how-to section for whole-cloth quilting.

Carolyn Vagts is the book's editor. She has more than 10 years of quilting experience, and her resume includes freelance designer, quilt store owner, writer and quilt-pattern proofer. Her freelance designs have been included in a number of magazines.

In the spring of 2011, Vagts was named editor of Annie's Quilter's World magazine, and her personal patterns are available through her store, The Village Quilt Shoppe, located in Lake Orion, Mich., and through DRG's Clotilde catalog.

Vagts said, "Making a pillow is an excellent way to try a new technique, and the time commitment is much less than the time required for making a full-sized quilt. And pillows offer opportunities for designing, skill building and gift giving."

Pillow Pizzazz is available in specialty stores and from the Clotilde catalog, accessible on the Web at Clotilde.com.
---
DRG (DRGnetwork.com) is part of the third-generation Muselman family business headquartered in Berne, Ind., near Fort Wayne. It is comprised of two divisions: Annie's and Strategic Fulfillment Group (SFG).
Annie's (Annies-Publishing.com) is well known to crafters and nostalgia buffs for its print and digital magazines, pattern books and other related products, sold primarily via mail, websites and catalogs.
SFG (StrategicFulfillment.com) provides state-of-the-art fulfillment and database marketing services out of a 140,000-square-foot facility in East Texas.
The Muselman business began in 1925 with the founding of Economy Printing Concern in Berne. EP Graphics, as it is known today, is still owned by the Muselman family. It specializes in high-quality, four-color web printing for catalogs and magazines.