Nine-patch projects in new full-color quilting book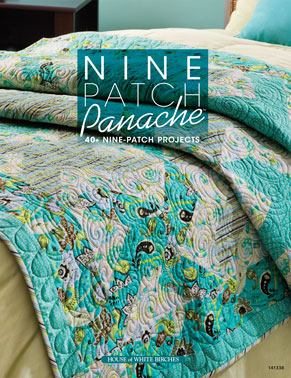 BERNE, Ind. -- Annie's, a leader in the craft and nostalgia markets, has released a new quilting book, Nine Patch Panache™.

On June 4, DRG's family of brands was consolidated under the company's new publishing name, Annie's. Moving forward, all pattern books will carry the Annie's name and logo. Nine Patch Panache will be available from Annie's through the Clotilde catalog, available online at Clotilde.com.

The book features more than 40 nine-patch quilt projects, including contemporary, traditional and modern styles in patterns for beginner through advanced quilters. Projects vary in size, including wall and lap quilts, table toppers and full-size bed quilts.

Carolyn Vagts is the editor. She has more than 10 years of quilting experience, and her resume includes freelance designer, quilt store owner, writer and quilt-pattern proofer. In the spring of 2011, Vagts was named editor of Annie's Quilter's World magazine and the company's entire line of quilting publications.

Annie's publishes special-interest magazines, hardcover and softcover books, pattern booklets and related products sold direct to consumers through catalogs and the Internet and through wholesale and trade channels.

Quilters and needlecrafters can access additional Annie's publications from the company catalog website at AnniesCatalog.com.
---
DRG (DRGnetwork.com) is part of the third-generation Muselman family business headquartered in Berne, Ind., near Fort Wayne. It is comprised of two divisions: Annie's and Strategic Fulfillment Group (SFG).
Annie's (Annies-Publishing.com) is well known to crafters and nostalgia buffs for its print and digital magazines, pattern books and other related products, sold primarily via mail, websites and catalogs.
SFG (StrategicFulfillment.com) provides state-of-the-art fulfillment and database marketing services out of a 140,000-square-foot facility in East Texas.
The Muselman business began in 1925 with the founding of Economy Printing Concern in Berne. EP Graphics, as it is known today, is still owned by the Muselman family. It specializes in high-quality, four-color web printing for catalogs and magazines.