Tea Bag Folding Through the Seasons: Creative card-making pattern book from Annie's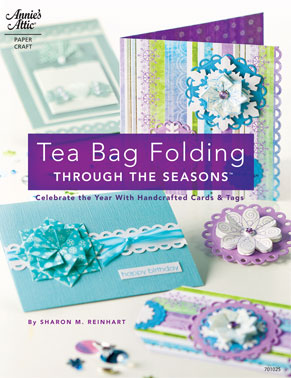 BERNE, Ind. -- Annie's, a leader in the craft and nostalgia markets, has released a card-making technique book called Tea Bag Folding Through the Season.

The book includes a collection of card designs that incorporate the technique of tea-bag folding, with how-to instructions for a variety of designs. It also includes complete project instructions, color photos and easy-to-follow folding diagrams. A number of popular card-making products have been combined to complement the variety of folding styles.

The book is 50 pages and includes more than 20 card designs -- some with matching tags. It retails for $9.95 and is available online from the Annie's catalog website at AnniesCatalog.com.

Annie's is one of America's premier sources for innovative and classic designs, publishing high quality special-interest publications and craft patterns known for accuracy and clarity. Annie's is a source for both contemporary and traditional designs, producing magazines, books, patterns and craft kits in the interest areas of knitting, crochet, paper crafting, beading, quilting and general-interest arts.

Card makers and paper crafters can find additional paper crafting books and products from the company website at Annies-Publishing.com. Paper crafting information and card-making ideas are also available from CardMaker magazine at CardMakerMagazine.com.
---
DRG (DRGnetwork.com) is part of the third-generation Muselman family business headquartered in Berne, Ind., near Fort Wayne. It is comprised of two divisions: Annie's and Strategic Fulfillment Group (SFG).
Annie's (Annies-Publishing.com) is well known to crafters and nostalgia buffs for its print and digital magazines, pattern books and other related products, sold primarily via mail, websites and catalogs.
SFG (StrategicFulfillment.com) provides state-of-the-art fulfillment and database marketing services out of a 140,000-square-foot facility in East Texas.
The Muselman business began in 1925 with the founding of Economy Printing Concern in Berne. EP Graphics, as it is known today, is still owned by the Muselman family. It specializes in high-quality, four-color web printing for catalogs and magazines.