The Good Old Days Store: New Web-based store sells products reminiscent of the past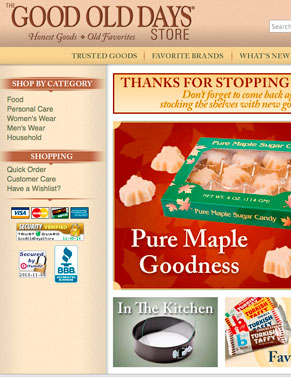 BERNE, Ind. -- DRG, a leader in the craft and nostalgia markets, announces the launch of a unique new Web-based catalog called The Good Old Days Store, which offers a variety of favorite products that reflect the quality, performance and brand names associated with an era of the past.

From cowl-neck flannel nightgowns to terrycloth slippers, men's extra-wide suspenders and Buster Brown cotton socks, the store offers items no longer readily available in retail stores -- items that conjure up memories from the past.

There are old-time creams and lotions to remedy cracked skin, tired feet and stuffy noses, along with classic colognes and old-time favorite foods such as Walnettos, Bonomo Turkish Taffy and Pecan Divinities.

The Good Old Days Store features apparel, personal care items, kitchen and home accessories, holiday and gift items, food items and books.

"We already know through our two nostalgia magazines, Good Old Days and Looking Back, that there is a market for these types of products," said Consultant Nancy Schneider. "Our readers enjoy revisiting some of their most cherished memories, and these nostalgia products bring those memories to mind."

The Good Old Days Store is located on the Web at GoodOldDaysStore.com.
---
About DRG: DRG (DRGnetwork.com) is in its third generation of Muselman family ownership in Berne, Ind. The company consists of a direct marketing division, featuring craft and nostalgia products, and a marketing services/fulfillment division in East Texas. DRG publishes magazines and books, and also offers kits and supplies under consumer brands that include House of White Birches, Annie's Attic, Clotilde, The Needlecraft Shop and American School of Needlework. Most print products are also available for download via the Internet. The fulfillment division, Strategic Fulfillment Group (SFG), in Big Sandy, Texas, offers database marketing and Internet services alongside traditional subscription and product fulfillment.