DRG partners with autism treatment center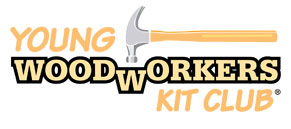 BERNE, Ind. -- DRG, a leader in craft and nostalgia markets, is partnering in the treatment and research of autism through proceeds from the sale of one of its popular children's kit clubs -- Young Woodworkers.

Beginning January 2011, DRG is setting aside a share of the payments from each Young Woodworkers Kit Club kit shipment for the Christian Sarkine Autism Treatment Center, earmarked for autism research.

Located in Riley Hospital for Children on the Indianapolis campus of the Indiana University-Purdue University School of Medicine, the center deals with research and education and is one of only two academic and research programs on autism in the state of Indiana -- actively treating over 600 children.

Riley Hospital and the Christian Sarkine Autism Treatment Center are members of the Clarian Health Partnership, serving as one of only three sites in the country involved in a project funded by the National Institute of Mental Health. The project focuses on medication treatment and parent management training development for individuals with autism.

DRG is an active supporter of health-related research and awareness initiatives, partnering with agencies and organizations on the state and local level to promote wellness and quality of life. The company has an ongoing partnership with the Indiana University Simon Cancer Center, supporting the ongoing effort to promote breast cancer awareness through the Melvin and Bren Simon Cancer Center in Indianapolis.
---
About DRG: DRG (DRGnetwork.com) is in its third generation of Muselman family ownership in Berne, Ind. The company consists of a direct marketing division, featuring craft and nostalgia products, and a marketing services/fulfillment division in East Texas. DRG publishes magazines and books, and also offers kits and supplies under consumer brands that include House of White Birches, Annie's Attic, Clotilde, The Needlecraft Shop and American School of Needlework. Most print products are also available for download via the Internet. The fulfillment division, Strategic Fulfillment Group (SFG), in Big Sandy, Texas, offers database marketing and Internet services alongside traditional subscription and product fulfillment.