Brenda Gallmeyer
Annie's Publishing Services Director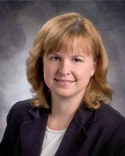 Brenda Gallmeyer
Back to Executive Profiles
Brenda Gallmeyer serves as publishing services director. She began working with the company in 1988 as a graphic artist for House of White Birches in Berne, Ind. In 1998, she began managing the company's freelance artists. In 2002, she moved to the position of publishing services manager, and she became director of all Annie's publications in 2004. In this position she oversees technical editing, photography and production of all Annie's publications.
Before coming to Annie's, she worked as a graphic artist for The Classic Company in Fort Wayne, Ind. Gallmeyer is a native of Fort Wayne and graduated from St. Francis College with a bachelor of fine arts degree.
Gallmeyer lives in Roanoke, Ind. with her husband Jeff and their three sons. She enjoys family, reading, flower gardening and crocheting.