Brenda Wendling
Annie's Product Operations Director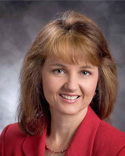 Brenda Wendling
Back to Executive Profiles
Brenda Wendling serves as product operations director. She began with the company in 1989, working as the publisher's assistant for The Needlecraft Shop in Big Sandy, Texas.
After working seven years in Texas, she transferred to Berne, Ind. to work in the editorial department. She edited Old-Time Crochet, began three direct-mail series and worked with plastic canvas and crochet pattern books and the Collectible Doily Series.
Wendling accepted the position of manager of publishing services in May 1999, and in April 2002 became the director of print buying/purchasing. In her current position she oversees print buying for all Annie's products, as well as purchasing for promotion and fulfillment components and kit series.
She grew up in Lakeland, Fla., working for her father's auction business. She also performed in the family band in their country western show in Kissimmee, Fla. She graduated from Kathleen High School as co-valedictorian and earned a bachelor of arts degree from Ambassador College in Pasadena, Calif. Shortly after graduating in 1985, she married and moved to Big Sandy, Texas with her husband, Steve. The couple has two children, Jeremy and Paige.
Before working for the Muselmans, Wendling worked for three-and-a-half years in an accounting office, eight months in production control for a Christian publishing company and two-and-a-half years part time for a Christian telephone response group.
Wendling has a passion for music, having performed in music videos and live shows in college. She later performed with her husband in a band for four-and-a-half years and continues to sing for church and other events.
Another of her interests is travel, which has taken her to Haiti, New Zealand, Europe, Israel, Hawaii and Canada. Other hobbies include teaching for Junior Achievement, sports, fitness, camping and scrapbooking.