Mike Klansek
Chief Financial Officer and Publisher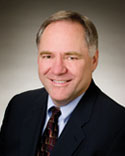 Mike Klansek
Back to Executive Profiles
Michael Klansek serves as chief financial officer and publisher for DRG.
Klansek joined the company as CFO in January 2005. His background and involvement at DRG has included all elements of the business, with particular focus on advertising and new business opportunities. His broader role prompted the addition of "publisher" to his title in May 2009.
Klansek has more than 30 years of experience in finance and administration, with nearly half of those years spent in the publishing business. He served as CFO and corporate controller for a publishing and communications business that distributed financial information, news and technical analysis from offices in the United States, Great Britain, Switzerland and France.
Before coming to DRG, Klansek was the vice president of finance and administration for a multi-office privately owned construction engineering and services group that provided engineering, specialty testing, surveying and other services to the construction industry throughout Virginia and Maryland.
He also held the position of CFO and investment advisor for a private-venture capital company in Virginia providing acquisition analysis, financial and operations management and strategic planning for domestic and international entities.
A native of Moline, Ill., Klansek attended Illinois State University, earning a bachelor's degree in accounting and business administration. He also did graduate course work in accounting through the university and is a certified public accountant.
He and his wife, Ingrid, have three children; Aaron, Jordan and Lauren.