Marylee Klinkhammer
Annie's Web Development Director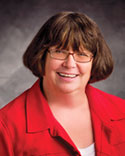 Marylee Klinkhammer
Back to Executive Profiles
Marylee Klinkhammer serves as Web development director. She joined the company in 1996 as a technical editor, working from the company's offices in Big Sandy, Texas.
Klinkhammer worked with Annie's cross-stitch publications for several years before transitioning to the Web development department. In 2002, she was named Web development department manager. After 10 years in the Texas office, she transferred to Berne, Ind., to coordinate website operations for all aspects of the company.
In her position, she oversees site design, content and website application development for all Annie's publications, catalog and downloadable e-commerce, company departments and divisions.
Before joining Annie's, Klinkhammer worked as a dispatcher for a national trucking company, and in 1988, helped pioneer the company's first efforts toward a satellite tracking and onboard computer dispatch system.
Klinkhammer lives in Berne with her youngest child, Westlyn. She is an autism advocate, an avid reader and enjoys cross-stitch, theater, travel and spoiling her grandchildren.