Robin Rothe
Annie's Fulfillment Services Director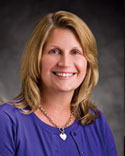 Robin Rothe
Back to Executive Profiles
Robin Rothe is fulfillment services director. She began working for the company as a marketing associate in 1989, later moving over to DRG's fulfillment division, Strategic Fulfillment Group, where she became operations director in 1999.
Rothe served as interim COO for SFG in 2002 before moving back to the direct marketing side of the company and her current position.
She received her bachelor's degree from Ambassador College in Pasadena, Calif., and a masterís degree in English from the University of Texas at Tyler in 1992.
She lives in Bloomington, Ind., with her husband, Klaus, and enjoys reading, biking, yoga and gardening. Rothe earned certification as a Purdue Master Gardener, and is active in the Bloomington Garden Club and Bloomington in Bloom.