Creative card-making ideas in magazine newsstand special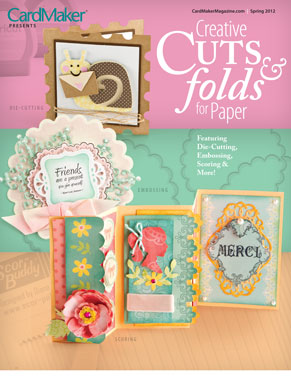 BERNE, Ind. -- DRG, publisher of CardMaker magazine and a leader in the craft and nostalgia markets, has released a spring card-making newsstand special publication.

Creative Cuts & Folds for Paper offers instructions for creating cards for all occasions using some of the most popular techniques in card making, including die cutting, embossing and scoring. With 114 pages of unique card creations from some of today's best-known designers, this special newsstand edition is created for card makers at all levels of card-making experience.

The magazine sells for $9.99 on newsstands nationwide.

Tanya Fox is the editor of the fall newsstand special edition and editor of CardMaker magazine. She joined DRG in January 1999, and in 2006 was named editor of CardMaker after serving as the associate editor for the company's paper crafting area since 2003.

She has been instrumental in coordinating joint publishing efforts with paper crafting companies that focus specifically on tools for paper crafting and card making, partnering with Spellbinders, Provo Craft and Copic to produce a number of paper crafting pattern books.

Fox attends various consumer shows and book signings and represents the company and the industry in radio interviews and other venues.

CardMaker is published six times a year and is available on newsstands and in specialty stores and by subscription at the magazine website at CardMakerMagazine.com.
---
About DRG: DRG (DRGnetwork.com) is part of the third-generation Muselman family business headquartered in Berne, Ind., near Fort Wayne. A leader in the craft and nostalgia markets, DRG is well known for its iconic brands, which include House of White Birches, Annie's Attic, Clotilde, American School of Needlework and Good Old Days. The company publishes magazines and books (print and digital), and also offers kits, supplies and Web-deliverable products in print catalogs and on its more than 40 websites. Magazines and products are also available on newsstands and in retail chains and independent stores nationwide. One of DRG's divisions, Strategic Fulfillment Group (SFG), provides state-of-the-art fulfillment and database marketing services out of a 140,000-square-foot facility nestled in the rolling wooded landscape of East Texas, centered between Shreveport and Dallas. The Muselman business began in 1925 with the founding of Economy Printing Concern in Berne. EP Graphics, as it is known today, is still owned by the Muselman family. It specializes in high-quality, four-color web printing for catalogs and magazines.