Summer issue of Crochet! now on sale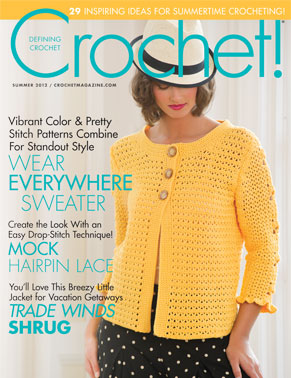 BERNE, Ind. -- The summer issue of Crochet! magazine is now on sale in select stores and on newsstands nationwide. Produced by DRG, a leader in the craft and nostalgia markets, Crochet! is celebrating 10 years as a prime source for the latest in crochet trends and styles. It was originally published in 1988 as Crochet Home, and in March 2002 was re-launched as Crochet! with a new look created to attract a new generation of crocheters.

The summer 2012 issue offers patterns and projects that are new and up-to-date in the needlecraft art of crochet. It includes 29 designs in a 100-page format that offers illustrations and close-up photos to make stitch and technique instructions clearer and easier to work, with patterns for beginner and advanced crocheters.

A new magazine feature is a column called Learn It! Do It!, which teaches a different technique in each issue. The featured technique in the summer issue is called drop-stitch mock hairpin lace.

Executive Editor Carol Alexander said, "In recent surveys, we asked our readers what new feature they would most like to see added to the magazine. We learned that they want more how-to articles, which is why we've added Learn It! Do It!

"We've also added a new benefit," she said, "allowing subscribers full access to each magazine issue in a digital online format at no extra cost. The benefit also includes access to two years of back issues."

The online version of the magazine is available at the magazine website at CrochetMagazine.com.

Alexander is executive editor for all DRG crochet publications and has been with the company since 2002. She is an active member of the Crochet Guild of America, serving on the board of directors for several years.

Crochet! is the official magazine of the Crochet Guild of America and includes patterns in a variety of skill levels that allow crocheters to choose a project best suited for their level of expertise. Every pattern includes a set of step-by-step instructions, with projects that reflect current fashion trends and use the latest yarns and techniques.

Additional crochet patterns and books can be purchased from the DRG website at DRGnetwork.com or from the Annie's website at AnniesAttic.com.
---
About DRG: DRG (DRGnetwork.com) is part of the third-generation Muselman family business headquartered in Berne, Ind., near Fort Wayne. A leader in the craft and nostalgia markets, DRG is well known for its iconic brands, which include House of White Birches, Annie's Attic, Clotilde, American School of Needlework and Good Old Days. The company publishes magazines and books (print and digital), and also offers kits, supplies and Web-deliverable products in print catalogs and on its more than 40 websites. Magazines and products are also available on newsstands and in retail chains and independent stores nationwide. One of DRG's divisions, Strategic Fulfillment Group (SFG), provides state-of-the-art fulfillment and database marketing services out of a 140,000-square-foot facility nestled in the rolling wooded landscape of East Texas, centered between Shreveport and Dallas. The Muselman business began in 1925 with the founding of Economy Printing Concern in Berne. EP Graphics, as it is known today, is still owned by the Muselman family. It specializes in high-quality, four-color web printing for catalogs and magazines.