Michele Fortune
Annie's Executive Vice President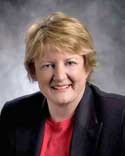 Michele Fortune
Back to Executive Profiles
Michele Fortune serves as Executive VP. She has been with the company since September 2005 and was previously the company's catalog director.
Fortune has a broad range of experience in both retail and direct marketing, with extensive merchandising and product development expertise. She has held senior level management positions in the retail and mail order industry for more than two decades.
She began her career in department stores as a buyer for the Filene Department Store. Recruited by Lord and Taylor in New York, she spent 11 years with the company, advancing to the position of senior vice president for women's apparel. She served as president of Ann Taylor and also held senior merchandising positions with TJX and K-Mart.
In 1997, Fortune relocated to Vermont to serve as vice president of merchandising for Vermont Country Store. Most recently, she was vice president of merchandising and product development for Country Home Products, where she merchandised the company's catalog and also launched several new products.
She grew up in California and attended Idaho State University.