Shirrel Rhoades
Senior Advisor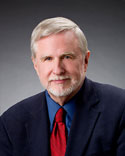 Shirrel Rhoades
Back to Executive Profiles
Shirrel Rhoades is a senior advisor for DRG. A native of North Carolina, Rhoades attended Wake Forest University and Stetson University, where he received a bachelor's degree in fine arts with a minor in advertising. Later he did graduate work in children's literature through Chapman College. He is a former faculty member for New York University's master's program in publishing.
Rhoades has held many positions in the publishing industry, including vice president and associate publisher at Harper's Magazine Co.; corporate circulation director for Ladies' Home Journal, Redbook and Sport Magazine; vice president and group publisher for Scholastic; vice president at Open Court Publishing, where he launched an acclaimed children's magazine, Cricket; and executive vice president and publisher of Marvel Comics Group.
He has successfully launched, published and sold magazines of his own and has served on several boards. He is a frequent speaker at publishing industry functions and guest lecturer at several universities.
Rhoades is married to Diane Brady, lives in Key West, Fla., and makes regular trips to Indiana.